About us
---
The Investment Partner you can trust since 2008
2008

The first Optimize Retirement Plans are launched:
- Optimize Capital Reforma PPR Equilibrado
- Optimize Capital Reforma PPR Activo

The first Optimize flexible Investment Fund is launched:
- Optimize Investimento Activo

2009-2013

Optimize Capital Reforma PPR Moderado is launched

The flexible Investment Funds are launched:
- Optimize Europa Valor
- Optimize Europa Obrigações

Optimize Pension Plans are launched in partnership with Real Vida Pensões

2014-2017

"Optimize Selecção" Investment Funds are launched in partnership with DECO Proteste Investe

2018-2019

Optimize and DIF Broker sign a deal to distribute Optimize Investment Funds and Retirement Plans

Optimize Capital Reforma PPR Agressivo is launched

Optimize and Banco Best sign a deal to distribute Optimize Investment Funds and Retirement Plans

Optimize receives authorization to sell its three investment funds in Spain

2020

Account opening through Chave Móvel Digital feature launched

Constitution of the Optimize SICAV in Luxembourg

In December 2020 Optimize launches its first fund in Luxembourg in partnership with Euroconsumers - Optimize Invest Selection



2021

Optimize launches the new Client Portal

Creation of the Optimize Disruption Fund

Optimize and the Lisbon Family Office sign a partnership that resulted in the creation of the Optimize LFO PPR Leopardo and Optimize LFO Rise US funds

Cross-border merger of the Investimento Activo, Europa Valor and Optimize Obrigações funds to Optimize IP SICAV in Luxembourg

Start of distribution of Optimize IP SICAV funds in Spain, Belgium and Luxembourg
230M€
Assets Under Management
17
Optimize Investment Funds
---
Assets Under Management by year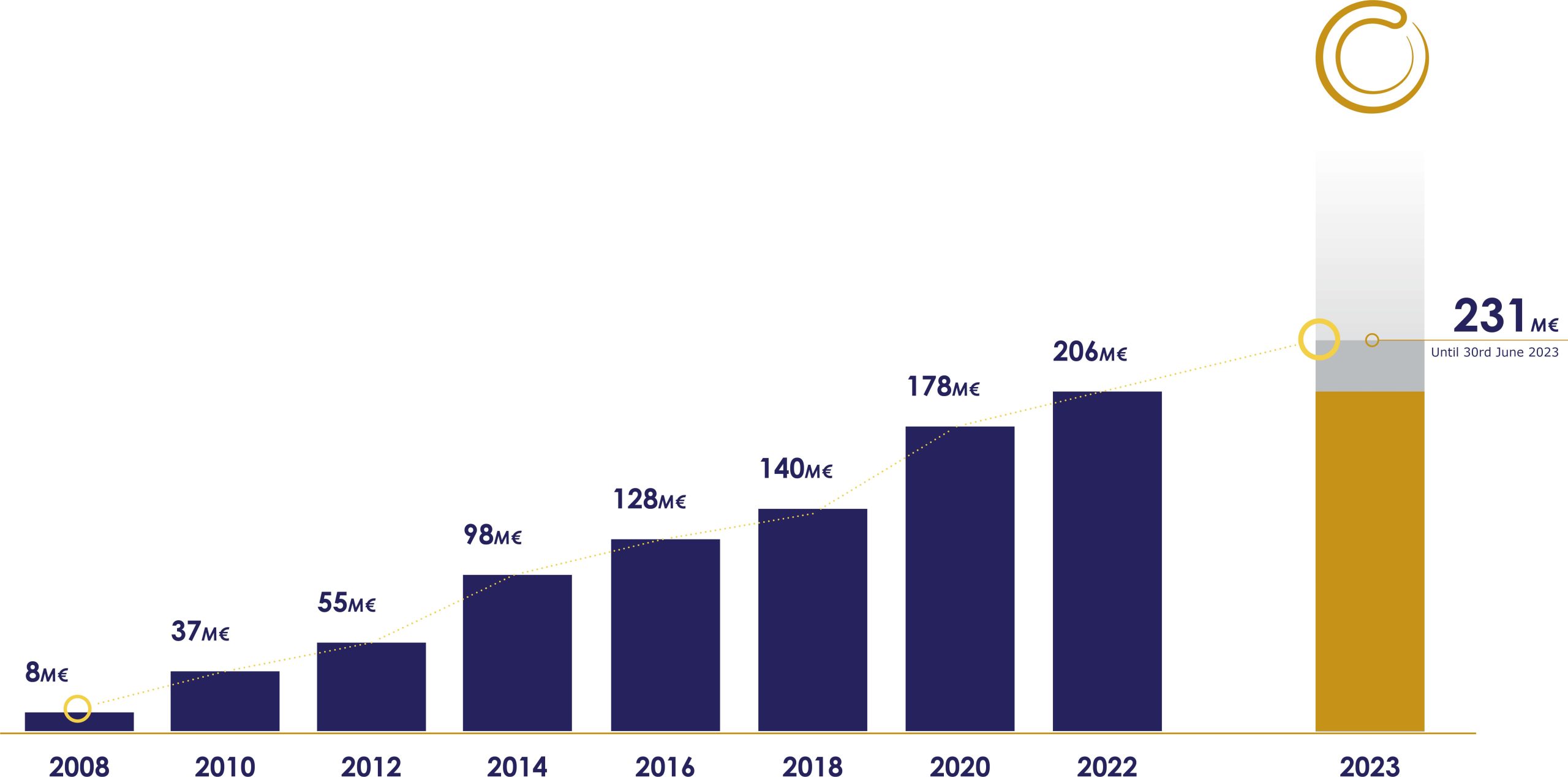 Assets Under Management in millions of Euro
2008-2022: Data from 31st December from each year
Independence
It reflects the absence of conflicts of interest in fund management, ensuring quality and professional management.
Professional
We analyse your financial situation and find the best investment solutions for you.
Credibility
Optimize is authorized and is under the supervision of the CMVM (The Portuguese Securities Market Commission).
---
Transparency
This is key to building a relationship of trust. Customers can consult the status of their accounts on a daily basis in a secure private online portal, in addition to receiving a monthly statement.
Performance
Optimize is focused on optimizing the profitability of its customers financial savings and in obtaining the best returns in the market.
Award-Winning Funds
Optimize funds frequently receive awards and distinctions from prestigious institutions such as Morningstar, APFIPP, FundsPeople and Rankia.
Optimize Investment Partners is an open-ended investment company that, since its foundation, has stood out for its innovation and constant defense of investors interests. Our main focus is simple: transparent and independent asset management with no hidden costs. The main consequence of this is the absence of conflicts of interest in the management of Investment Funds, Retirement Plans, Pension Funds and Wealth Management, which is reflected in the numerous awards received over the years.

On the other hand, knowledge of the real needs of the customers has proved vital for Optimize to continue providing savings solutions that meet the investment objectives and risk profile of its customers.

The coming years will be challenging for the entire industry as a result of technological evolution and implementation of sustainability criteria in fund management.

Optimize will continue to invest in the development of technological and investment solutions in order to bring the best management to its customers.

I really appreciate the trust from our customers, employees, suppliers and stakeholders, who every day inspire us to be better.
Make good investments with Optimize!
The Team
---
Meet the Optimize Team that works daily to find the best investment opportunities for you.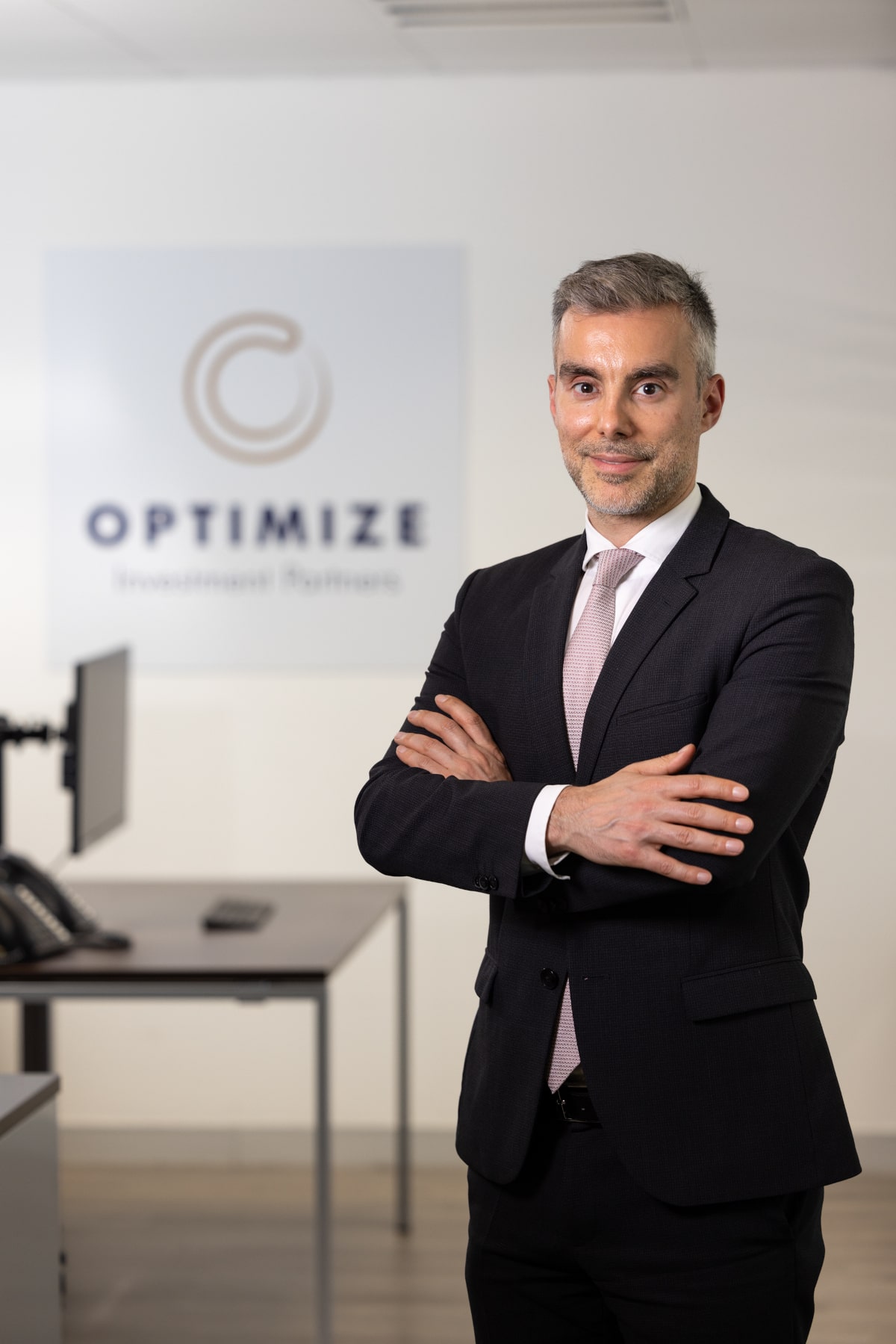 CEO
Pedro Lino
---
From an early age Pedro became interested about financial markets, and started to invest at the age of 16 years when he opened his first brokerage account.

In 2002 he was elected Director of DIF Broker – Sociedade Financeira de Corretagem SA, and currently holds the position of Chairman of the Board of Directors. He was Director of DIF Markets - Agente de Valores, headquartered in Uruguay, acquired by DIF Broker from Saxo Bank A/S, between 2017 and August 2021.

In October 2018 he joined Optimize Investment Partners as Executive Director and is currently Chairman of the Board of Directors. Already in 2020 he was elected President of Optimize SICAV, based in Luxembourg.

He holds a Degree in Economics from the Nova School of Business and Economics in 1998.

(44 years – 21 years of professional experience)
Executive Board Member
---
Nuno Santos
---
Nuno started his career in 1992 as a Technical Consultant for Insurance at "Trabalho Vida". In 1996, he moved to BNC – Banco Nacional de Crédito Imobiliário (now Banco Santander), assuming the role of Account Manager for corporate and private customers. From 2000 to 2008, he was Head of the Commercial Department at SGF- Sociedade Gestora Fundos de Pensões.

Since 2008, Nuno Santos has been the Commercial Director at Optimize Investment Partners, and in 2018 was elected Executive Director.

He has a degree in Business Organization and Management and a postgraduate degree in Markets and Financial Assets from ISCTE.

(48 years - 29 years of experience)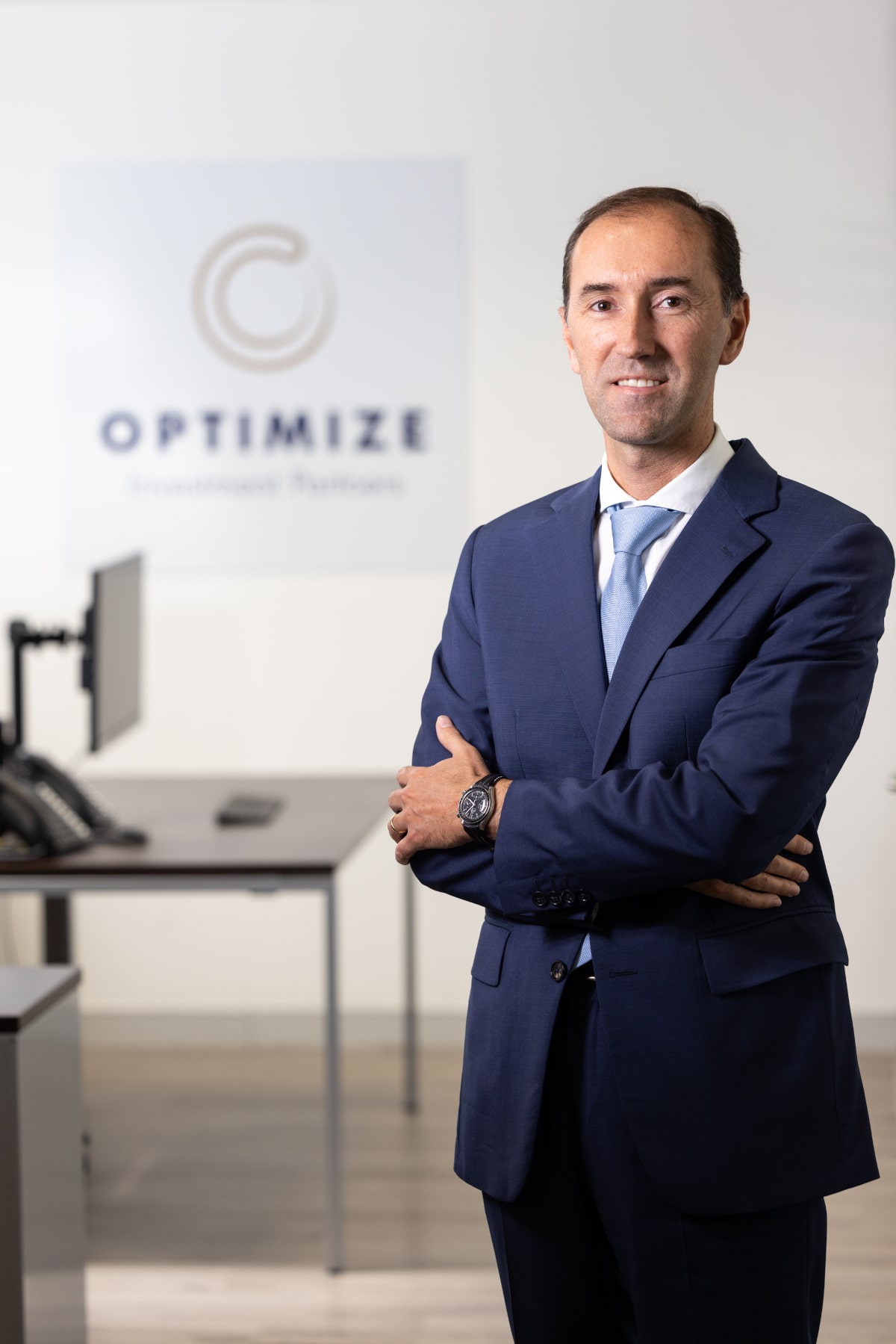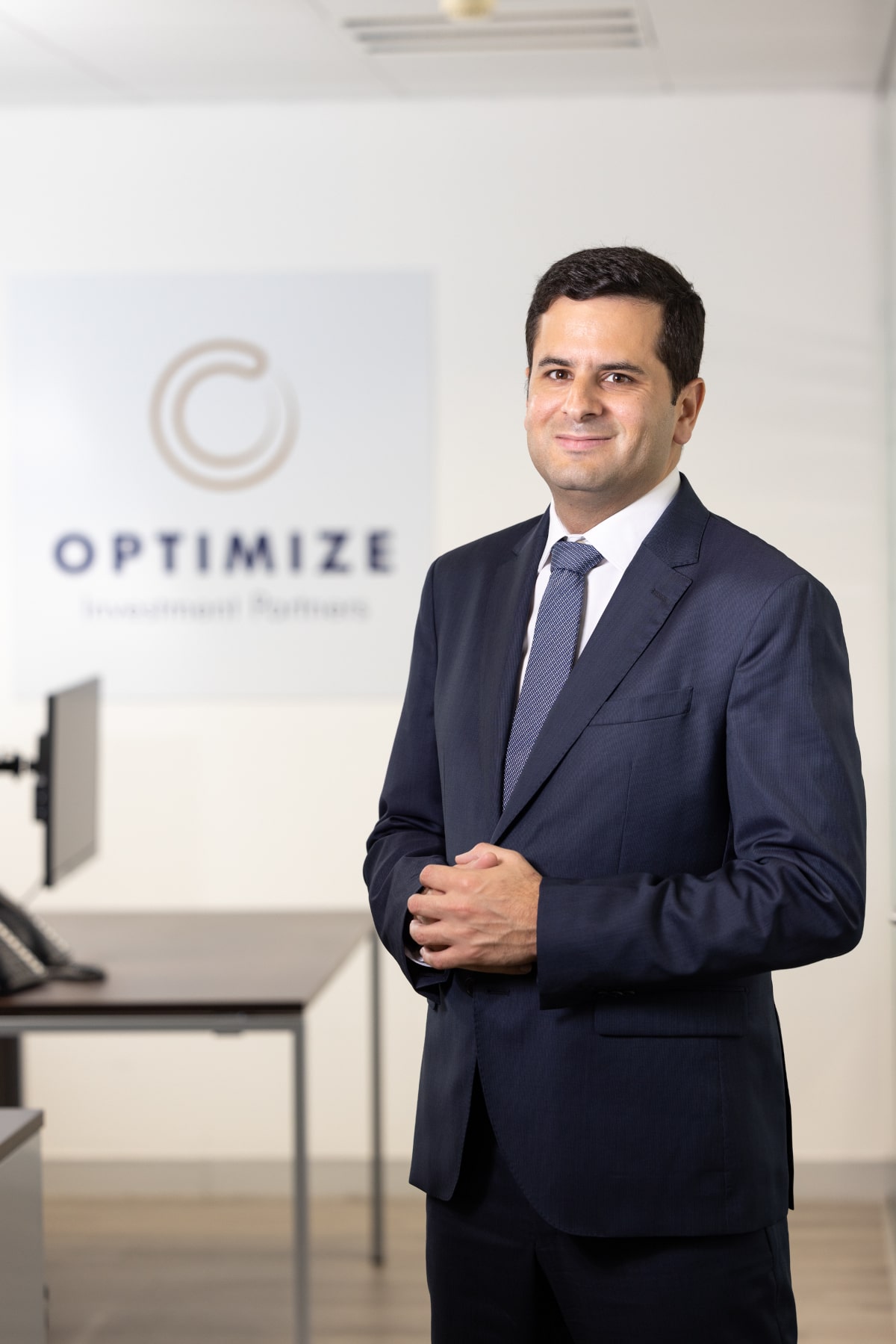 Senior Investment Manager
---
Carlos Pinto
---
He started his career in 2007 as a Junior Middle Office at Banco Privado Português. In 2010, he joined Optimize where for 2 years he worked as a Back-Office Junior, after which he assumed responsibility for the department.

In 2014, Carlos Pinto joined our Investments team, performing the functions of Investment Manager since then.

He holds a Degree in Business Management from ISEG and a postgraduate degree in Markets and Financial Assets from INDEG-IUL, ISCTE Executive Education.

(36 years - 14 years of experience)